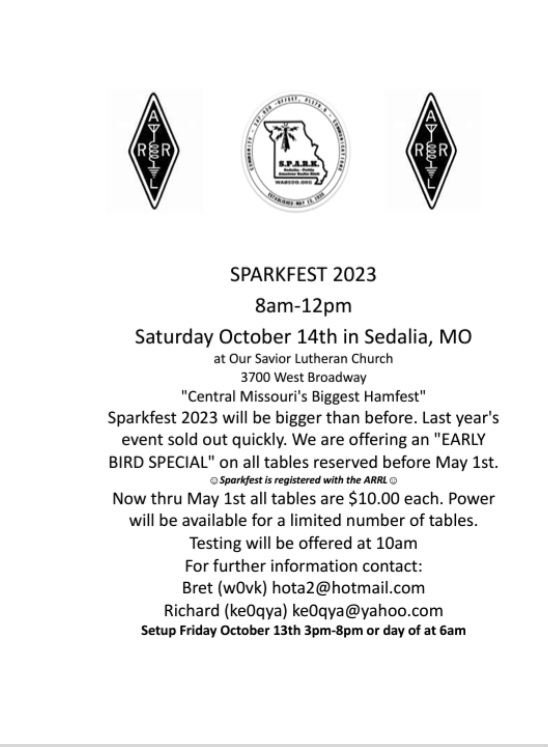 Wow the turnout and enthusiasm was great.  9 student's total, of which we have two young lady's attending the class (10&12).  There were several guest to stop by, Don (KF0ARQ), Richard (KE0QYA), Dewayn (KB9TQJ), & Bret (W0VK).  We had some good discussions and great comradery in the class.  Next class will be held on the 25th 8-4.  I would encourage you to come by say hello to the new potential Hams.   There is already discussion of wanting a General class so spread the word.   Well that's all I have for now.  Really looking forward to getting this group tested and hearing them on the air.
73 Daren – KDØOPS
With 33 in attendance, SPARK is on the move for this spring. Just a few items that we discussed was it was decided to move our Tuesday evening ragchew net to 7:30pm, on the 2meter repeater. We encourage all to try this unique net out. It's a great place to learn something new or to just chat with friends on the radio. If you know of anyone that might be interested please so them the flyer. The Technician Class will be starting next Saturday on the 11th. Daren has 7 enrolled to date. The flyer for the class is posted on this page and in the newsletter. We will be taking our EmComm trailer and will have a booth at the Boonville Hamfest this upcoming Saturday as well, a flyer is also posted on this page and our newsletter. The Missouri QSO Party will be on April 1st & the 2nd. We will setup after the meeting and will be operatering under our club call sign WA0SDO. The club will provide burgers and hot dogs and hopefully everyone will bring a covered dish. It will be a great time and hopefully we'll make several contacts. After the meeting we conducted a test session and had a individual who was from Lowery City who was a Novice Class and passed his Technician test. Also a great Fusion class was held.
During the month of April we are having a contest to see if our members can make 10 different contacts on our 2meter repeater. All you need to do is just log who, date, and the time and we will reward those with a club certificate. All you need to do is email Bret (W0VK) hota2@hotmail.com before the April meeting with your contacts made. Sorry nets are not included.
We have plenty of things happening in the next few months and would encourage all to take advantage of what SPARK has to offer.
Sunday Night Net Control Operators:
5th Renda (KB0UVW)
12th Richard (KE0QYA)
19th Paul (KD0ETL)
26th Connie (WA0QCJ)
We had a GREAT antenna building class after the Feb 4th meeting.  Dewayne KB9TQJ provided materials (and (Knowledge!) to build a 2 meter yagi(s)which was tuned to the repeater freq. with a SWR of 1.2 to 1.7 average.  It was a great way to spend time with some GREAT people and friends.   Now we need to put together a FOX hunt, Now that we have some directional yagi(s).  It was a really great time and good club comradery.  Thanks again to Dewayne for making this possible.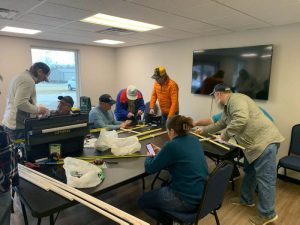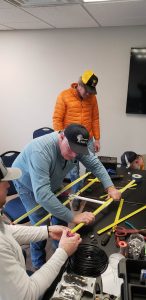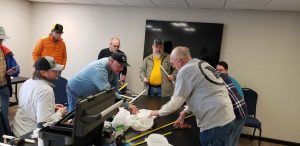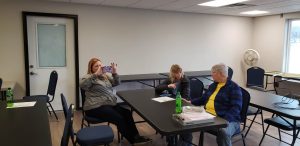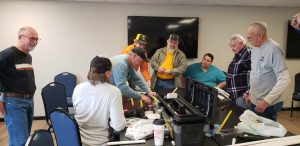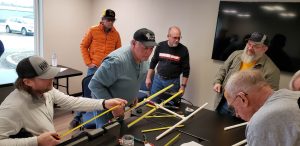 For those that couldn't stay for the antenna build here is a repost of an antenna project similar to our antenna build today after the club meeting.   Daren – KDØOPS

Originally Published on: Apr 23, 2020 at 17:57

Fellow Ham's!

While we are all exercising our Social Distancing these days, I thought this would be a great time to share what I have been doing.  After researching a bit, I found many diagrams for a great Yagi Fox Hunt Antennas.  These diagrams were all very similar so I decided to just pick one and go with it.  I found through the process it was fun and really not too hard to make, I did substitute a couple things because honestly I just used what I had on hand, that is the fun thing about this project!
So, I have it completed and plan on using it to check in to our net tonight just for fun and to show everyone how it works.  I have added some pictures so you can see the finished project and how basic it really is.  Here is the link for the instructions I used, just for your reference if you want to make the same one I did.
I hope many of you that don't already have one of these fun little Yagis decide to make one just to have on hand so when we do get the opportunity to have a Fox Hunt you will be ready!!

https://www.jpole-antenna.com/2017/02/07/build-it-2-meter-tape-measure-yagi-beam-antenna/

I hope you all enjoy this as much as have.

-Bret W0VK
Bret Thanks for the Ideas.  Here is my build: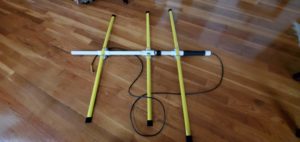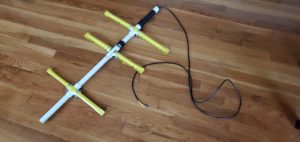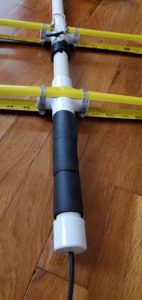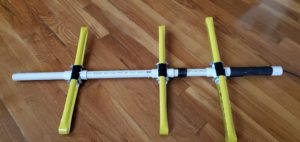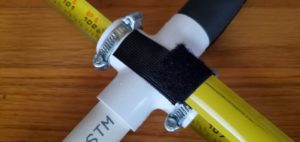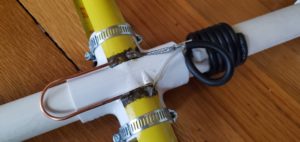 Some things that I researched and did a little differently were, I used 3/4″ PVC (Already had it on hand), Used some velcro to wrap ends of sharp tape measure ends and also serves to hold elements in the collapsed position,  added choke (RF cable around PVC (6x's),  Also used those tiny hose clamps that I never find a use for anywhere else (I just put to together!).  Put BNC connector on end.  Took my antenna analyzer to this and it's about 1.5:1  @ 144.5 , 1.1:1 @147.00 and 1.5:1 @ 149.0.   Also, have enough left out of the 25ft tape to make another one.  IF anyone needs some tape measure elements just ask first come first serve.
– Thanks and 73's, Daren – KDØOPS
With 35 in attendance, SPARK held its monthly meeting at EMA Headquarters this morning. After the standing committee reports we discussed several things. Paul *KD0ETL) gave a final report on Winter Field Day. We had many members who participated this year and a great time was had by all. Bret (W0VK) reminded members about the upcoming storm spotter training to be held on March 2nd. The Sedalia-Pettis EMA has invited members of SPARK to attend this training. This training is closed to the public but since SPARK is a vital asset of EMA we encourage are members to attend. The location of SPARKFEST 2023 was secured and will be held on Saturday October 14th at Our Savior Lutheran Church again this year. After the meeting Dwayne (KB9TQJ) conducted a Antenna Building Class that was well attended. Our next scheduled meeting will be held on Saturday March 4th beginning at 8:30am held at EMA HEADQUARTERS located at 1511 N. Ohio in Sedalia. March training After the meeting will be Fusion 101 getting on the air. If you haven't been to a meeting in awhile we encourage you to do so and see what's happening with SPARK.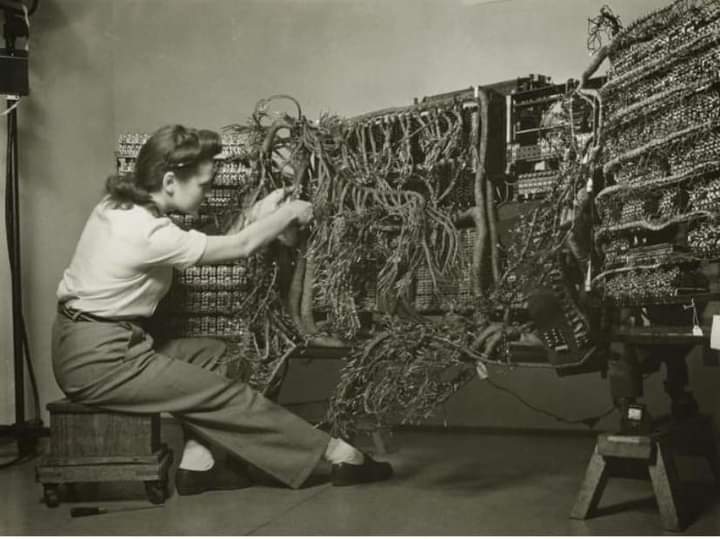 5th Marsha (KF0HYQ)
12th Joel (KE0WJX)
19th Richard (KE0QYA)
26th Renda (KB0UVW)