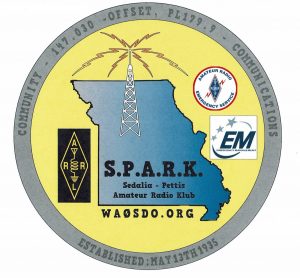 Hams who are visiting the Missouri State Fair are  invited to utilize our repeater while they are in town.
We have operators who monitor daily and can answer most questions you might have about your visit to Sedalia. We also have a 2 meter net on our repeater that will happen twice during the fair, once on Sunday the 15th and again on the last day of the fair on the 22nd, both at 8pm. Please check in, we'd love to hear from you!
Several area hams also monitor 146.52. Give a call there also if you need assistance during the fair.
Statistics suggest that approximately 79 hams per day may visit this year's fair as hams comprise .248% of the US population.  We hope to hear from every one of you!
Repeater info:
 
147.03 MHz with a 


non-standard negative 
offset

 that you will
have to manually
program.
(Your radio will assume
a + offset.)
Input is 146.43 



179.9

 PL tone 

Net is on Sundays, 8:00pm